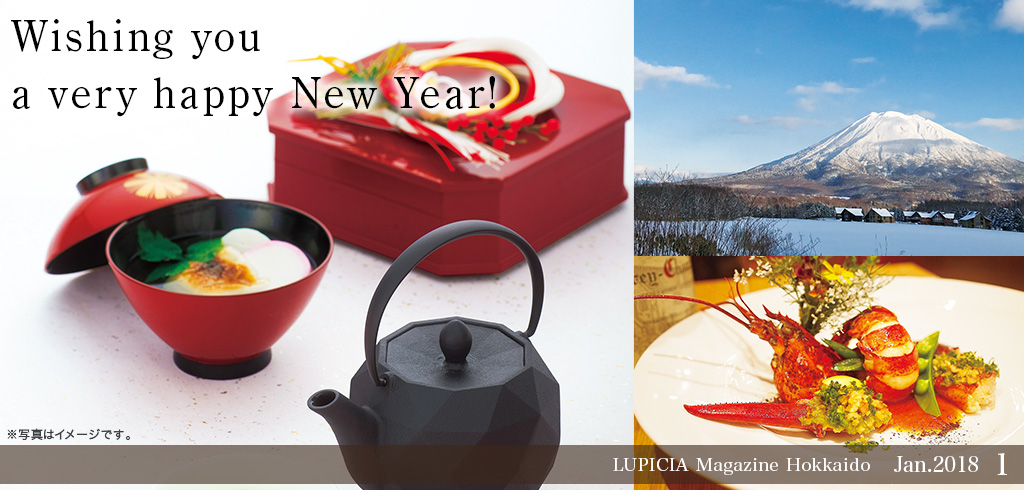 Come to Niseko in winter when it shines the most
---
At the beginning of a new year,we all feel excited about the unknown that lies ahead. It is also a time to reflect upon the year that has passed and to set new goals.
La villa LUPICIA in Niseko, Hokkaido, a food resort presented by LUPICIA specializing in the world's tea brands, established a new Niseko factory in 2017.
Since then, it has delivered prepared food, soups, smoked food, charcuterie (processed meat products), and confectionery, which have been created by leveraging Hokkaido's fresh food ingredients. As we plan to deliver a new food culture and delicious foods that make our customers smile through the blessings of nature in Hokkaido in 2018, please look forward to our new mouthwatering dishes.
As we start a new year, we would like to introduce anew all of the facilities at our food resort, La villa LUPICIA, in this issue. Be sure to drop by La villa LUPICIA and find out what these facilities can offer you when you visit Niseko.
Wishing you the best in this upcoming 2018!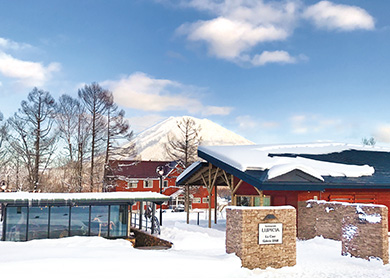 Receiving the blessings of nature
La villa LUPICIA is a complex facility comprising a restaurant, a boutique, a sweets shop, an art gallery, and a wine cave.
Located at the center of the food resort is a restaurant that offers a magnificent view of Mt. Yotei in addition to delicious food. Dishes served here are prepared by using plenty of fresh ingredients, such as vegetables, dairy products, and meat grown in the Niseko region, as well as fresh seafood from the Shakotan Peninsula.
There are many repeat visitors who come to saver the dishes prepared by Chef Hidenori Uematsu, who makes the most of the original flavor of the food ingredients. Chef Uematsu says that he does not work on the fresh, local ingredients too much in an effort not to spoil their quality. Come and fully enjoy a variety of French dishes arranged with a touch of Japanese cuisine. During the winter season up to the end of March, 2018, we recommend BENTO for lunch, which features Yumepirika, rice produced in Rankoshi, Hokkaido, and daily side dishes that add to the palatability of Yumepirika. For dinner, we offer three special courses: LUPICIA Dinner comprising appetizers served in a buffet style, a main dish, and a dessert; LUPICIA Prefix comprising two types of appetizers, sushi, a fish dish, a meat dish, and dessert; and the Chef's Menu, with dishes determined and prepared each day by the chef using bountiful fresh ingredients. There is also an a la carte menu and a menu for children.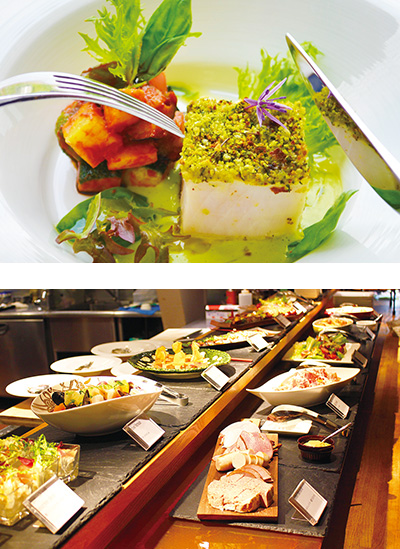 Delicatessen showcased on the table
The boutique handles tea from LUPICIA, a shop specializing in the world's tea brands, bread fresh from the oven, food prepared by Chef Uematsu, ham, and sausage. LUPICIA's flavored tea, Niseko Annupuri, and herbal tea, Makkari Nupuri, both of which are crowned with the names of famous mountains in Niseko, are sold only at this shop and are popular Niseko souvenirs. Soups manufactured at the Niseko factory of LUPICIA Gourmand are also sold here.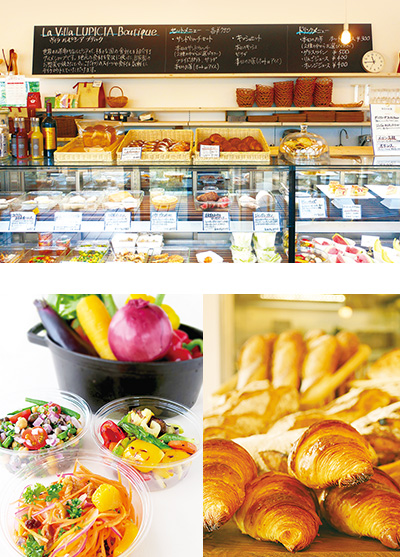 Confectionery that highlights tea time
There is a sweets shop next to the boutique. An array of cakes and baked confectionery are showcased, tempting you to have tea time right away. Cakes created by a dedicated patissier are very popular. The shop accepts reservations for whole cakes for special occasions.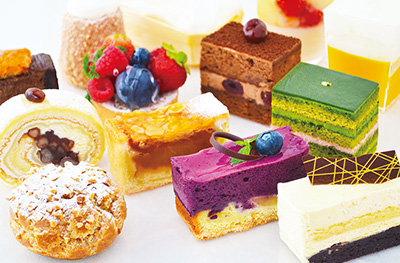 Iron art and wine
In the gallery, about 30 works of Masafumi Sawada, an iron artist in Niseko, are displayed and sold. As Mr. Sawada is in the gallery for most of the opening hours, you may be able to watch him create an iron work. In the basement of the art gallery, there is a wine cave where about 100 types of wine and Japanese sake (about 6000 bottles) are stored. All of the wine is imported from France, with some imported to Japan for the first time.
For Japanese sake that is becoming increasingly popular overseas, we offer special brands carefully selected by an expert.